FreshPatch.com is revolutionizing the way Fido goes to the bathroom indoors. A stylish and Eco-friendly alternative to unsightly pee pads, dogs and their owners are opting for this convenient real grass delivery service.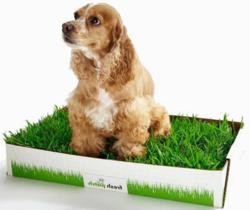 Real grass naturally attracts dogs, while absorbing and controlling odors
Los Angeles, CA (PRWEB) May 17, 2012
A new product for dogs is capitalizing on the innovative technology of soil-less grass. Initially used mainly for golf courses and other large outside areas, this unique grass is now featured in an in-home dog potty produced by Fresh Patch (http://www.freshpatch.com). The company was established in 2010 to provide a convenient solution for dog owners who can't always take their pets for a walk when nature calls.
Fresh Patch consists of a fully disposable, leak-resistant container fitted with a 16" X 24" living patch of hydroponically grown grass. The grass naturally attracts dogs, while absorbing and controlling odors. Because the grass is dirt-free, it eliminates the problems of bugs and messy soil that accompany regular sod. When a new Fresh Patch is delivered, either weekly or every other week, the old one is thrown away.
"When I designed Fresh Patch, I had my own personal experiences in mind," said Andrew Feld, the company's Founder. "It was stressful for me and my cocker spaniel, Chloe, whenever I could not make it home in time to take her outside. I developed Fresh Patch to offer a product that provides "relief" to pet owners and pets alike."
"With Fresh Patch, dogs can meet their bathroom needs on their own schedules," said Feld. He noted that dog owners don't have to deal with bad weather, late-night treks, or endless trips on elevators or stairways to give their dogs relief. Moreover, Fresh Patch is particularly helpful to pets that are injured, elderly, or limited in mobility, as well as those prone to carpet and floor "mistakes." According to Feld, it is an ideal solution for apartment dwellers, puppy trainers, pet rescuers, veterinarians, and seniors who live in facilities that allow pets. Feld said that his customers find that their lives are made much easier because they have a better solution for their dogs' bathroom needs.
Fresh Patch has many fans. Among them is Linda Nelson, Director of Tiny Loving Canines (TLC) (http://www.tinylovingcanines.com). TLC is a no-kill, non-profit, foster-based rescue organization based in California. TLC is dedicated to lowering the kill rates of small dog breeds. "I absolutely love Fresh Patch," said Nelson. "I am a hard person to sell on new things, but we really showcase the product because we are very satisfied with how well it performs. It has made life easier for the dogs in our foster care, and we make sure to recommend it to everyone who adopts our dogs."
The patent-pending product is selling well and has plenty of room to grow within the $60 billion dollar pet market. According to the United States Humane Society, there are approximately 78.2 million dogs in U.S. households; more than 39 percent of U.S. households own one or more dogs.
Fresh Patch is recommended for dogs weighing less than 25 pounds, but the patches can be joined together for larger dogs. Orders and subscriptions can be placed on the company's website (http://www.freshpatch.com).